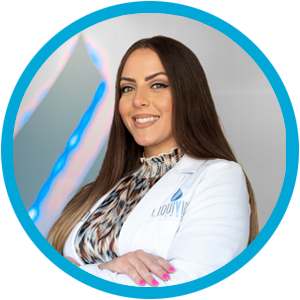 Aalaa Ahmad, APRN.

State of Florida
APRN11010236
---
Aalaa Ahmad, APRN, is a board-certified nurse practitioner who specializes in non-surgical cosmetic injections. She is a New York native, who moved to the sunshine state of Florida where she attended high school and college. Aalaa completed her Bachelor of Science in Nursing at Barry University and dedicated 10 passionate fulfilling years caring for others working in areas such as the intensive care unit, neuroscience unit, and medical-surgical unit.

Aalaa later decided to take her education and career to the next level and attended Florida International University where she received her Master's of Science in Nursing. Aalaa received her nurse practitioner certification from the American Nursing Credential Center and is a member of the American Association of Nurse Practitioners.

After grad school, she began working in Aesthetics where she specialized in non-surgical facial and body rejuvenation and enhancements. She is passionate about formulating an individualized plan of care for each client for facial and body enhancements, hormone replacement therapy, weight loss, IV therapies, and peptide therapy.

When Aalaa is not at work helping others to feel and look their best, she likes to spend time with her family and friends and of course relaxing on the beach.