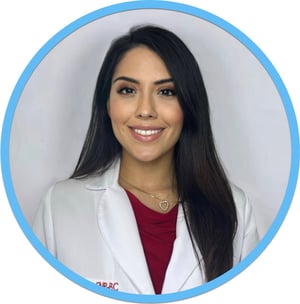 Gloria Arias, FNP-BC
Florida - APRN11010232
---
Gloria Arias, MSN, APRN, FNP-BC is a board-certified Family Nurse Practitioner licensed in the state of Florida and certified by the American Nurses Credentialing Center. She was born and raised in Miami, FL to immigrant Latino parents and is a first-generation American.

As a young child, Gloria always had a passion for medicine and the sciences. She began volunteering at Miami Children's Hospital where she confirmed her vocation to become a healthcare provider.

Gloria graduated from Florida International University in 2015 with a Bachelor of Science in Nursing. She worked as a Registered Nurse in various settings such as medical-surgical, cardiovascular, and newborn intensive care units (ICU).

In 2019, Gloria took the next steps in her professional career and applied to the Family Nurse Practitioner Program at the University of Miami where she graduated at the top of her class with a Master's in Science of Nursing in 2020.

As a nurse practitioner, Gloria worked at Aventura Cardiovascular Center and later on at Cardiomender MD Weight Loss Specialists where she discovered a passion in helping people lose weight. During this time, she also pursued other interests such as injectables, and traveled to New Jersey for her first training in 2021.

Gloria is driven by her never-ending pursuit of self-improvement and has made a vow always to keep learning. She stays current by training alongside prominent leaders in the aesthetics/wellness field. Gloria is currently in the process of becoming board-certified with the American Academy of Procedural Medicine in Aesthetics and receiving her weight loss specialization from the National Academy of Sports Medicine (NASM).

She is excited to start the newest chapter in her professional career with Liquivida Aventura to help clients become the most optimal versions of themselves.

When she is not working, Gloria enjoys spending time with her family, traveling, exercising, and living a healthy lifestyle with her partner.