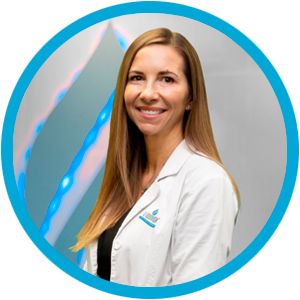 Theresa Brunner, APRN.
Florida - APRN11007123
---
Theresa Brunner is a Board Certified Family Nurse Practitioner who specializes in aesthetic injections. She was born and raised in Florida. Theresa attended the University of Miami with a Bachelor of Science in Nursing in 2007. She dedicated her nursing career to caring for critically ill premature and newborn infants in the Neonatal ICU.

Theresa went on to further her nursing career and got her Master of Science in Nursing from Chamberlain University. Theresa is credentialed through the American Association of Nurse Practitioners as a Family Nurse Practitioner.

Theresa began her NP career working at CVS Minute Clinic and assisted during the COVID-19 pandemic overseeing a COVID-19 testing site. She has been a professor at Keiser University, teaching in a post-graduate accelerated Bachelors of Nursing program. She educated future nurses in pathophysiology, pharmacology, health assessment, and medical-surgical nursing.

She has always been passionate about caring for all patients, both inside and out. Theresa continued her education and completed courses in non-surgical facial and body rejuvenation and enhancements. She is zealous to help patients improve the way they feel both inside and out by offering her expertise in anti-aging medicine.

In her off time, Theresa is an avid traveler. She enjoys exploring the world with her two daughters and husband.