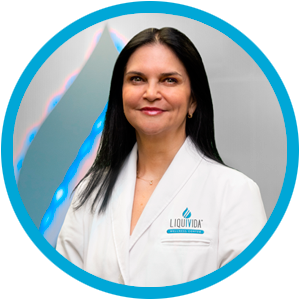 M. Elsie Comas, APRN.
Florida - APRN11006431
---
Maria Elisa Comas has been a dedicated member of the healthcare industry for over 15 years in the United States, with experience in many medical fields including aesthetics.

Born in Venezuela, Comas graduated as a Surgeon with a degree from the University of Los Andes in her native country and later received a Master's Degree in Aesthetics and Surgical Medicine from the University of the Balearic Islands located in Spain.

She continues studying and working in the healthcare field, which is one of her greatest passions. In the City of Miami, Florida at Ana G. Méndez University, Comas received an additional degree in Nursing and a Master's Degree in Nursing as a Family Nurse Practitioner, which has allowed her to continue growing and facing new challenges here in The United States.

She is currently obtaining her Ph.D. while working in Functional and Aesthetic Medicine. Comas is proud to provide her patients an opportunity to prevent and treat their health naturally through a comprehensive philosophy while applying the latest technological innovations and advances in medicine. Patients can maintain their health and youth in a safe and accessible way with her care, knowledge & expertise.