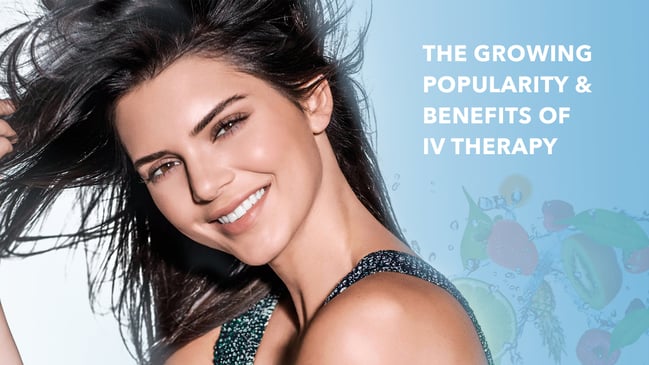 Although vitamin IV treatments have been around for many years, touted in particular by top athletes to boost performance and aid in faster recovery, there is now an upward trend fueled by the growing popularity among entertainers and celebrities with some even throwing IV parties. While we often follow the latest and greatest in celebrity skincare and fashion trends, the health and lifestyle habits of our favorite trendsetters are not to be overlooked. After all, with their grueling schedules and fast-paced lifestyles, celebrities need all the help they can get to stay energized, focused and maintain that enviable youthful glow.
The benefits of IV therapy go beyond just a quick pick-me-up. A safe and simple way to effectively introduce much-needed vitamins and minerals into the bloodstream, these nutrient-rich treatments can easily be incorporated into your everyday lifestyle. From Adele to Kendall Jenner, if you've ever wondered what IV treatments your favorite celebs indulge in, we break down the different IV therapy treatments offered by Liquivida that have been embraced all across the entertainment industry.

How does IV Therapy work?
With specifically targeted combinations of vitamins, amino acids and minerals, an IV treatment is administered intravenously into the bloodstream in a session usually ranging anywhere from 30 minutes to one hour. With no downtime, IV therapy treatments can be done in the spur of the moment and the effects are often immediate and can last for a few days. Patients leave feeling refreshed and energized.
Below, we compare how celebrities benefit from IV therapy, and show you which IV treatments offered at Liquivida® can merit the same benefits.

Some of the IV Treatments offered by Liquivida®:
The Fountain of Youth – From her early days as a fitness guru, Jane Fonda has made it her lifelong mission to embody health and wellness as part of her career. At 84 years young, Fonda has been known to favor anti-aging IV treatments that aid in rehydrating the body to help reduce the visible signs of aging and nourish hair and skin in the best possible way. Two key ingredients, Vitamin C & B are important components in stimulating collagen production to improve elasticity.
The Executive Drip –One of the biggest names in music, Adele is larger than life on stage with a commanding presence and amazing vocal stamina. Perhaps one of her greatest feats yet was a back-to-back 8-night performance at L.A.'s Staples Center where the singer relied on the benefits derived from an energy-boosting IV treatments similar to The Executive Drip. Designed to not only boost your immune system, this treatment also provides energy, mental clarity, and focus to perform at your best.
Natural Defense – Now more than ever, keeping up with a healthy immune system is vitally important. The Natural Defense IV treatment is a great way to make a big impact on your health by ensuring that your body has the best chance of fighting off the numerous airborne illnesses that we are exposed to on a daily basis as well as helping our body to cope with high-stress levels. Founder of Goop and well-known actress, Gwyneth Paltrow is reported to regularly receive immune-boosting IV infusions that are a great addition to her already healthy lifestyle.
The Rise & Shine Drip – We've all done it. Either had too much to drink, not getting enough sleep, or maybe a combination of both. Whatever the situation, the Rise & Shine Drip is the perfect recharge by infusing your body with the hydrating properties it needs and detoxifying your cells to get you back to your normal self. TV actress and model, Sofia Vergara knew firsthand the benefits that are derived from these types of treatments when guests at her wedding could partake in a "hangover" cure to help them avoid the after-effects of an epic night before.
Chelation Drip - Justin Bieber has also been public about his affinity toward IV therapy, pledging to maintain this treatment for the foreseeable future as helps his day-to-day well-being with weekly sessions flushing out less desirable toxins.
IV Drip Parties - While most IV treatments are performed in private at a specialized treatment facility such as Liquivida, Kendall Jenner, and Hailey Beiber were recently filmed doing what celebrities do best: taking it to the next level! At an "IV Party" the two models weren't shy about enjoying the benefits of infusion IV treatments that aid in cell regeneration and can help fight chronic fatigue and inflammation.
If you're looking for a safe and effective way to boost your immune system, jumpstart your health and work toward a more energized lifestyle, we encourage you to visit one of our many Liquivida® locations. Our IV treatment specialists will work with you and recommend the best IV therapy treatment to meet your wellness goals.
Call us today to book your appointment and be ready to experience a whole new you!