So, you've heard about all the benefits of Nutrient IV Therapy as preventative medicine, but you're still nervous about trying it out. You've probably read about the myths and misconceptions about IV nutrient therapy and how it can help you stay healthy, but you still want to know what the experience is like. There's plenty that Liquivida Lounge has to offer to make you feel safe, comfortable, and in good hands at the time of your nutrient IV infusion.
In this article, we break down what you can expect from your first visit at one of Liquivida's vitamin IV infusion spas in America.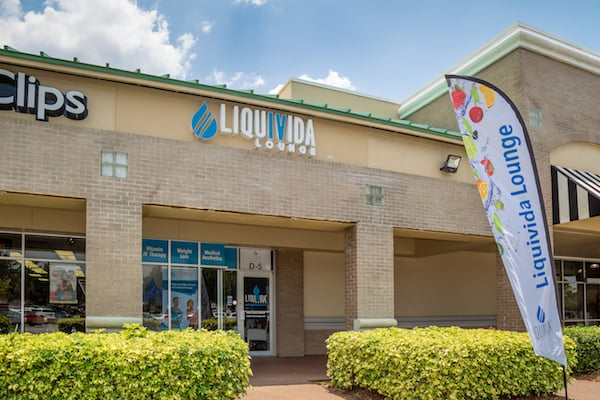 High Quality, High Impact Consultations
Not all med spas are made equal. At Liquivida Lounge, all IV therapists are trained and certified at the A4M; American Academy for Anti Aging Medicine. At the American Academy for Anti Aging Medicine, IV therapists learn the latest procedures, protocols, and techniques to safely administer any kind or regenerative or anti-aging medicine. This means Liquivida's facilities follow the highest standards in safety and comfort for anyone seeking vitamin therapy.
Most med spas in South Florida are not staffed with certified professionals. Liquivida Lounge takes this extra step to ensure your first visit gives you confidence. From your initial consultation, you can feel safe knowing that the therapists are fully trained to give you accurate recommendations about what your body needs so you can decide what nutrient drip or treatment option is best for you. You want the best for your body and so do the professionals at Liquivida Lounge.
Tailor-Made Attention & Treatment
Not sure what your body needs? At Liquivida Lounge's Broward wellness center, you can get a micronutrients test to make sure you know what kind of nutrients you need in your system and what vitamin deficiencies you may be experiencing.

We've talked before about how you may be vitamin deficient and not even realize it. Many of us go about our days feeling tired and weak without really knowing why. With a micronutrients test, you'll get to the root of the problem and find out why you may be feeling a certain way. Micronutrient tests take a look at what's in your blood to make sure you're getting the treatment your body needs. Liquivida's trained staff will tell you which vitamins and amino acids you may be deficient in while recommending specific drips to tailor to what your body needs. For example, if you are suffering from Vitamin D deficiency, you might receive an extra dose of vitamin D to help boost your system and get you feeling better as soon as possible. You will find very few med spas in South Florida that can provide you with that level of service specific to your body.
Every Client is Different
Whether you're trying to enhance your workouts, feel more productive at work, improve your overall health, or slow down the signs of aging, Liquivida Lounge provides just what you are looking for. We know that every client has different needs, so you should get service that fits your lifestyle. That's why Liquivida offers many different nutrient drips and services that cater to exactly what your body needs. If you are trying to be more productive at work, you will find a drip for that. If you are trying to improve your mental focus, there is a vitamin drip for that as well. Whatever you are looking for, you can feel comfortable knowing that you will get treated for your exact needs and not everyone elses's, unlike other nutrient IV therapy centers in Broward. Your needs are unique, so why should you be treated as if they weren't?
Unique Services for Special Situations
If you're looking for a little more variety and want to know about other ways to maximize your health, Liquivida Lounges offer a plethora of features to help you really narrow in on the specific of your health and wellness. For instance, they provide hormone tests to let you see if your testosterone or estrogen levels are low. This can make all the difference when finding the right vitamin IV in Fort Lauderdale to boost your health.
They also give you access to a nutritionist to recommend nutritious foods that address your specific needs. This includes meal plans to help you better manage your diet, and even specific weight loss treatments catered to help you finally take charge of your health. If you're not sure about what's right for your body, Liquivida Lounge has a medical director to guide you to make better decisions with just a phone call. You won't find services like these anywhere else.


Follow Ups & Continued Therapy
Liquivida Lounge is so unique in their approach to follow up. All IV infusion therapists go above and beyond to find out what treatments are working for you and how your body is improving. If you take an initial micronutrients test, the professionals at Liquivida Lounge will follow up with you after a few sessions of nutrient IV therapy with another micronutrients test to see if you are still deficient in any vitamins or amino acids. In that case, they will set you on the right course of treatment. Liquivida will make sure you are always getting what you need when you need it. Our bodies are constantly changing, it makes sense to change the treatment when you body demands it. There are other med spas that won't follow up to see how you are progressing because they cannot provide that level of care. Only Liquivida will make sure that you are always getting what you need, no matter what.
Caring and Courteous IV Therapy Team
The team at Liquivida Lounge are all trained to give you the best, most professional service. They also provide a wealth of experience and knowledge as the staff are either registered nurses, physicians assistants, or firefighter paramedics. When you want to improve your health, you want someone who is an experienced health professional and knows what they're talking about. They are trained to make every consultation meaningful and to add value to your experience with the right kind of medical expertise to treat you. There are so many alternative health centers in Broward that don't provide you with a decent level of care. If you want to feel like you are taken care of, Liquivida Lounge will lookout for you before and after your visit.