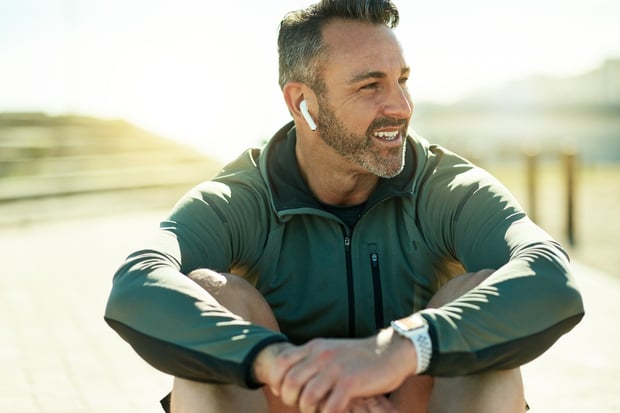 Despite what you may have heard, women aren't the only ones experiencing hormonal changes throughout their lifetime. As men age, their bodies continue to change — including their testosterone levels! Millions of men are impacted every year by their lower levels of T, which begins naturally after age 30.
In fact, many men experience andropause, or the male menopause, and seek hormone replacement therapy (HRT) for the unwanted symptoms that come with it. HRT is a well-practiced medical treatment that benefits many men in relieving the symptoms of andropause… but how do you know if it can help you? It all starts with understanding the problem at hand.
How do you know if you have low testosterone?
Unlike hormonal changes in women, low testosterone in men can be more difficult to identify because it tends to happen over time as you age rather than in a sudden drop. Generally, testosterone levels drop by 10 percent every decade after you turn 30.
That means that the older you are, the less testosterone you begin producing and the more likely it is for you to experience the symptoms of low T.
Knowing the major signs of low testosterone can help you take care of your body and treat your symptoms with the Some signs of low testosterone in men are:
Fatigue

Low libido

Hair loss

Loss of muscle

Increase of body fat
Some men experience a condition known as hypogonadism which can cause unnaturally low levels of testosterone prematurely. These men are likely to experience worse symptoms of low T due to their condition. This may make them the ideal candidate for HRT, which we will discuss later.
Ultimately, you'll want to take a blood test to determine if your symptoms are a result of low testosterone or have another cause. A medical professional can identify if you have a hormone imbalance and how much treatment you may need.
What are the benefits of hormone replacement therapy for men?
Hormone replacement therapy can help counteract the negative symptoms caused by unnaturally low levels of testosterone in men. The symptoms that are treated can range from low energy levels to trouble sleeping.
Men who are successful with HRT may find that they have more energy, are able to lose weight, and experience an overall feeling of vitality that they did not have before.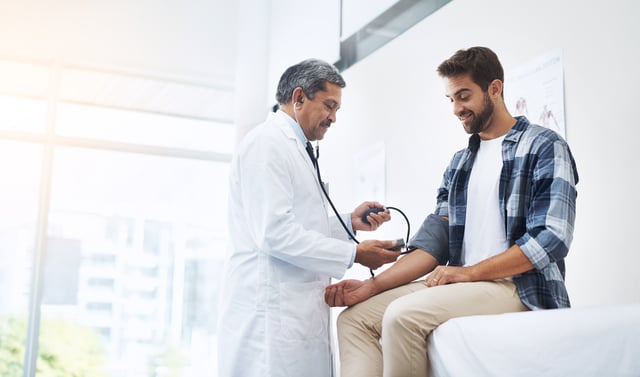 How does hormone replacement therapy work?
Before beginning HRT, a health professional will test your blood to determine your current testerone levels. Normal testosterone levels in men range from 300 to 1,000 ng/dL according to the FDA.
Once determining your testosterone levels, you'll receive HRT injections to begin your treatment. Injections are usually administered by a health professional in the buttocks. However, in some cases your doctor may teach you how to inject the treatment on your own into the thigh. Because this is a medical treatment, you may want to opt for having the injections administered by a professional.
Is HRT safe?
Many men find that they benefit from testosterone injections provided during HRT. However, it is possible to experience immediate side effects from the injections such as acne, swelling of the ankles, and disturbed breathing while sleeping. Some studies also suggest that prolonged HRT therapy could lead to certain health risks.
Generally speaking, however, HRT is a safe procedure that poses limited side effects for men. Before beginning treatment, you should weigh any potential risks with your doctor.
Is HRT right for me?
Whether or not HRT is right for you will completely depend on your testosterone levels and symptoms at the time of treatment. While hormone therapy is a known treatment for men with hypogonadism, studies are unclear on whether or not HRT is beneficial for men who are healthy and experiencing lower levels of testosterone due to age.
There are some studies that suggest that HRT therapy can help diminish health threats in men over 30 such as heart disease and stroke. Testosterone can also help the metabolism which may mean you want to try hormone therapy for weight loss.
Remember to always consult with a health professional before beginning a new medical treatment. This is especially important if you have any health concerns related to your liver or your heart. Your doctor can help you decide whether HRT is right for you.
How can I get started with HRT?
If you believe that you can benefit from hormone replacement therapy due to low testosterone, you're not alone. Some men might feel embarrassed or ashamed but the truth is that men receive treatment every day! HRT is a regular service offered at clinics and medical spas across the country — including Liquivida Lounge.
If you're looking to get started with Liquivida's HRT options, you can always set up a consultation with one of the lounge's licensed medical professionals. Once meeting for a consultation, Liquivida's expert team can design a treatment plan that works to meet your needs.
Contact the Liquivida team today to get started on your hormone replacement journey.