Liquivida is Now Partnering With AmnioWell™

IMMEDIATE RELEASE- 3/23/2021
(Fort Lauderdale, FL) – Liquivida Lounge® has partnered with AmnioWell™ to deliver to its clients industry-leading treatments in the field of exosome therapy, sexual health, hair regeneration, pain relief, and skin restoration. AmnioWell's™ ability to treat such a wide array of symptoms is due to its therapy centering on the growth and repair of tissue.
AmnioWell™ is a sterile, acellular protein matrix comprised of cellular signaling agents. It is an amniotic tissue graft intended for the rejuvenation of tissue. This simple protein matrix is comprised of exosomes, growth factors, cytokines, chemokines and hyaluronic acid. In short, AmnioWell™ is a clinically-proven, all-natural treatment that consists of over 900 different proteins including exosomes.
Compared to other similar treatments such as stem cell therapy or platelet-rich plasma therapy, AmnioWell™ stands out for being minimally invasive, easy to administer, little to no side effects, minimal recovery time, and broad range of uses, making AmnioWell™ a top choice for physicians and their patients.
The organization behind AmnioWell™ is led by Dr. Christopher Davis. Dr. Davis is a triple board-certified integrative interventional cardiologist with a passion for educating and empowering individuals to take control of their own health. He is the founder of Manatee Cardiovascular Wellness Institute, a full-service cardiovascular practice as well as the founder of Reveal Vitality, a Lifestyle medicine and Functional medicine practice where he incorporates nutrition education, hormone balance, and precision health and wellness utilizing genetic testing. Dr. Davis also serves as the Medical Director at Hippocrates Health Institute, a world-renowned health wellness spa in West Palm Beach, Florida as well as the Chief Medical Officer of Liquivida Lounge®.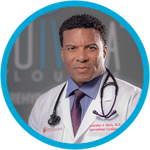 Dr. Christopher Davis, MD.
State of Florida - ME95617
Pembroke Pines' first Liquivida Wellness Center™ is likely to open in the first quarter of 2021.

The onboarding phase for this location has commenced.
LQV Management partners with franchise owners to offer an integrated and full-service medical franchise model to help people across America to replenish, rehydrate, and revitalize through vitamin IV therapy, medical esthetics, and innovative weight loss solutions.
Franchises are operated by a respected network of medical professionals who believe that sustainable health and wellness can be achieved by knowing the body and caring for it through targeted nutrition and a combination of preventative and functional medicine.
Headquartered in Fort Lauderdale, Florida, the company is known for creating a modern, spa-like environment, where people from all walks of life can relax the mind as they replenish the body to better manage the aging process and obtain a greater quality of life.