Liquivida® Cleared to Offer QWO®- the Only FDA-Approved Treatment for Cellulite Reduction in the Market

IMMEDIATE RELEASE- 10/4/2021
(Fort Lauderdale, FL) - Today Liquivida® begins to offer QWO®, the first only FDA-approved injectable designed to loosen fibrous bands around the buttocks area that create dimples known as cellulite. Through a series of sessions, this treatment can visibly reduce the appearance of cellulite in a matter of 10 weeks.
QWO® has been only approved for commercialization by hand-selected medical spas and wellness centers well-positioned to introduce this treatment to the market. To kick things off, Liquivida® will begin by performing procedures at Liquivida's flagship wellness center in Fort Lauderdale, FL. Clients interested in learning more are invited for a complimentary consultation and can now take advantage of this special introductory offer:
Liquivida Introductory Offer

Regular Price:
$900

Sale Price:
$595

Total Savings:
$305 per treatment

Terms and Conditions:

A consultation is required at no cost. A $50 cancellation OR no-show fee applies, billed to the customer's credit card on file. Single treatment is optional, though a minimum of 3 treatments is recommended. Introductory price may be extended to subsequent treatments, up to 3 treatments. Regular price is $900 for additional treatments. Offer runs only while supplies last. Not available at Liquivida Maitland location as of yet.*
FACTS TO TO CONSIDER:
Visible results may be achieved in 10 weeks*. Women received 3 treatments, 21 days apart. Results assessed 28 days after 3rd treatment

A non-surgical treatment clinically proven to reduce moderate to severe cellulite

Injections take as little as 10 minutes*.

In clinical trials, women required no post-treatment downtime.
*Individual results may vary.
About QWO: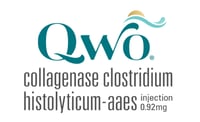 Qwo® (collagenase clostridium histolyticum-aaes) may cause serious side effects: allergic (hypersensitivity) reactions, including anaphylaxis and injection site bruising.
Most bruising lessened after each treatment and resolved in less than 21 days. The most common side effects of QWO® include: injection site bruising, pain, areas of hardness, itching, redness, discoloration, swelling, and warmth in the treatment area.
For more information about this treatment, please click here.
LQV Management partners with franchise owners to offer an integrated and full-service medical franchise model to help people across America to replenish, rehydrate, and revitalize through vitamin IV therapy, medical esthetics, and innovative weight loss solutions.
Franchises are operated by a respected network of medical professionals who believe that sustainable health and wellness can be achieved by knowing the body and caring for it through targeted nutrition and a combination of preventative and functional medicine.
Headquartered in Fort Lauderdale, Florida, the company is known for creating a modern, spa-like environment, where people from all walks of life can relax the mind as they replenish the body to better manage the aging process and obtain a greater quality of life.